AYS 21-22 Audition Music
AYS 2021-2022 audition applications open March 1, 2021.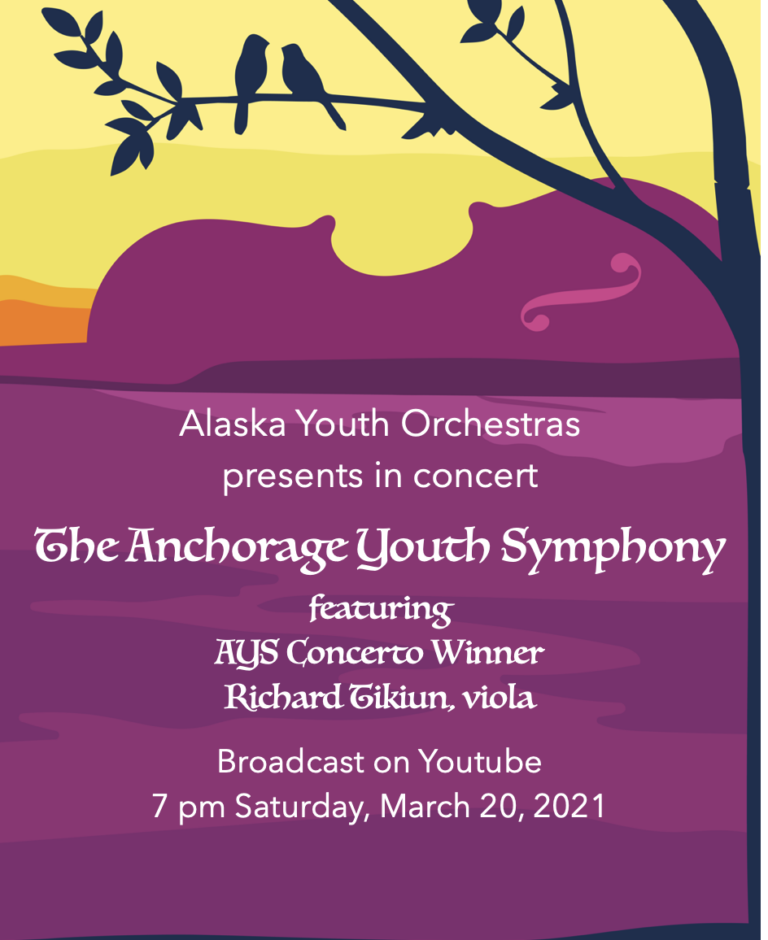 PLAYING MUSIC ALL ACROSS ALASKA
Completely free of charges and open to musicians of all ages and skill levels!
REGISTRATION OPEN

funded in part by a grant from the Alaska Department of Health and Social Services

Scholarship Fund Matching Grant Awarded to AYO
The Richard L. and Diane M. Block Foundation awarded AYO a matching grant for Scholarship Fund donations. The foundation will match every dollar up to $10,000 donated to support AYS tuition scholarships. Each season AYS awards tuition scholarships to assist musicians who are experiencing financial hardship, as well as to increase diversity, equity, and inclusion. This year the need is greater than ever due to the economic impacts of COVID. Donating to this fund is a great way to directly contribute to an AYS musician in need!
Visit the DONATIONS page to be a part of this exciting campaign.
ARTWORKS ANCHORAGE
Anchorage, AK – Anchorage's performing arts organizations have come together during the COVID-19 crisis to create a new annual event celebrating the greater arts community in our city. Our goals are to raise support for the arts by increasing visibility for the numerous arts organizations and artists whose work enhances life in Anchorage, to build advocacy for the arts through community engagement, and share the importance of the arts in our community.
During this time where we can't come together to experience the arts together we encouraged the city to follow our lead and share how important art is to a happy and healthy society. From 10am-7:30pm on Saturday, Oct. 3,  we encouraged arts organizations, artists, and the community across Anchorage to take part in art and share why the arts are important using the hashtag #artworksanchorage.
Here is AYO's ARTWORKS Anchorage video!
COVID Response
We believe it is important for our musicians to return to rehearsal when and if it can be done safely. A number of performing arts organizations have joined forces to commission a study on the effects of COVID-19 on the return to the rehearsal hall. It is important to understand what risks exist in performing arts classrooms and performance venues prior to returning to that setting.  The second round of preliminary results have recently been released including recommendations. These study results, along with local, state, and CDC guidelines, are the foundation of our COVID Protocols which we have developed with
the health and safety of our musicians as the highest priority.
Support the Anchorage Youth Symphony
by purchasing


PROJECT VIOLIN

GREETING CARDS

These beautiful greeting cards feature the 15 one-of-a kind masterpieces created on the bodies of violins by some of the most accomplished contemporary Alaskan artists and auctioned during the Anchorage Youth Symphony's 55th Anniversary celebration in December, 2019! You may have missed the auction, but you can still take them all home!  Artists Featured: Duke Russell, Kim Marcucci, Holly Nordlum, Rhonda Scott, Amanda Brinkley, Petr Bucinsky, Marianne Elson, Amanda Faith-Thompson, Kim Kovol, Lance Lekander, Cheryl Lyon, Kim Marcucci, Holly McQuinn, Michele Xio, and Tracey Pilch.
Your greeting card purchase supports the Anchorage Youth Symphony, a nonprofit 501c3 organization teaching responsibility, commitment, self-confidence, discipline, and teamwork through music education and performance! Tax ID# 92-0082750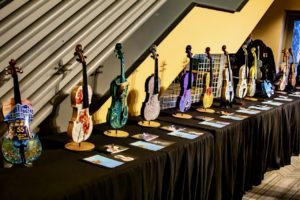 Alaska Youth Orchestras
Investing in Alaska's next generation of leaders by teaching high-achieving teen musicians
the values of responsibility, commitment, self-confidence, discipline, and teamwork
through music education and performance for more than 50 years!