We invite you to honor the individuals who have spent many hours of their lives dedicated to developing their musical skills, and who are looking forward to taking the stage this year to provide you with extraordinary concert performances of the world's great classical music. Contributors (individuals, groups, or companies) will be acknowledged on our website and in our programs throughout the season. AYO is a registered 501(c)3 non-profit organization and all donations are tax-deductible.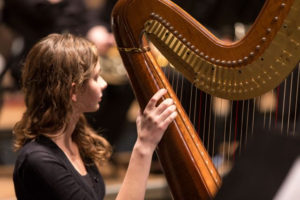 Conductor's Circle
A monthly, recurring gift that allows AYO to grow in an exciting way! Even small amounts make it easier to budget how we serve our students month to month while making the cost of giving more manageable. Your gift makes a meaningful difference in the lives of our young musicians by helping to provide rehearsal space, sheet music, concert venues, and much more. Please consider partnering with AYO to create amazing music in amazing places by becoming a member of our Conductor's Circle. AYO is a registered 501(c)3 non-profit organization and all donations are tax-deductible.
Conductor's Circle members receive:
– 20% off AYO concert tickets
– Regular communication on AYO news
– Annual Conductor's Circle reception
Above and Beyond
Help us make Alaska Youth Orchestras affordable for everyone by donating to the Above and Beyond Fund. This fund assists members who are otherwise unable afford the costs of AYO. All Above and Beyond donations remain confidential unless requested otherwise. Donors can give to the general fund, or to a specific student's costs. AYO is a registered 501(c)3 non-profit organization and all donations are tax-deductible.
Sponsor a Chair
Sponsor a Section
Sponsor the Podium
We invite you to show your support and enthusiasm for AYO by sponsoring a musician, section or conductor. With this unique, tax-deductible gift, you can let your child, grandchild, friend, student, etc., know how proud you are of their AYO accomplishments and musical education. Chair sponsors are listed in concert programs.
One-Time Donation
A great way to help us is by making a donation. AYO strives to constantly increase and improve the opportunities available to our students, the visibility of our orchestras within our community, and the excellence of our orchestral groups. In order to keep our program vibrant and stable, we depend on contributions from individuals and local businesses. AYO is a registered 501(c)3 non-profit organization and all donations are tax-deductible.
Fred Meyer Rewards
Fred Meyer is donating $2.6 million this year to non-profits in Alaska, Idaho, Oregon and Washington. If you have already linked your card, thank you! If not, here's how the program works:
Sign up for the Community Rewards program by linking your Fred Meyer Rewards Card to (non-profit) at www.fredmeyer.com/communityrewards. You can search for us by our name or by our non-profit number 85901.
Then, every time you shop and use your Rewards Card, you are helping (non-profit) earn a donation!
If you do not have a Rewards Card, they are available at the Customer Service desk of any Fred Meyer store.
For more information, please visit www.fredmeyer.com/ communityrewards.

Concert Program
Alaska Youth Orchestras Concert Program & Website advertising is a professional and targeted way to advertise your business, align yourself with a thriving arts organization, reach affluent and community-engaged patrons and support Alaska's oldest youth orchestra.
For over 50 years AYO remains as one of the most prominent performing arts organizations in Alaska with music for all tastes from Classical to Pop. As a federally registered 501(c)(3) nonprofit organization, revenue from program advertising sales offsets the cost of the actual printing of the publication, allowing additional funds raised throughout the season to go directly to artistic and educational programs.
Alaska Youth Orchestras concert programs feature full-color front and back pages, music program notes, senior profiles, musician roster, editorial content, photos and advertisements. Concert programs are distributed at our three concert performances at The Alaska Center for the Performing Arts and remain available on our website for further exposure. Website Advertising Space is also available on Alaska Youth Orchestras website: www.alaskayouthorchestras.org With over 48,000 page visits every year, space is limited.
Web Ad includes:
One year website Ad placement
Full color artwork (Width: 185 pixels, Height: 140 Pixels)
Link to your business/organization website​​
Amazon Smile!
Support AYO by shopping through Amazon Smile! Click through and shop using this link and Amazon will donate a portion of what you spend to AYO.
Auction Procurement
We invite you to donate an item or service for AYO's annual silent-auction fundraiser held at the Alaska Center for the Performing Arts in conjunction with our May 5, 2018 concert.
Along with the Annual AYO Silent Auction, the Alaska Youth Symphony and Alaska Youth Philharmonic will be performing "Generations: Unity Through Music". The evening will be a collaboration with the Anchorage Concert Chorus, ACC, showcasing Anchorage, Eagle River and Mat-Su Valley talent across the generations — the youth of AYO with the adults of ACC — coming together to present profound music. It will be an evening to remember and we hope you can join us!
The AYO's mission is to build musicianship, inspire our youth to love music, offer enriching opportunities for music performance, and create a musical legacy that will sustain arts throughout the lives of our members and our communities. Funds raised at the auction are used for our scholarship program, concert production, instrument repairs, music rental, and other program costs.
We are a community-based, non-profit 501(c) (3) organization; therefore, contributions are tax-deductible. If you are able to contribute, we will gladly pick up your tax-deductible donation and provide you with a receipt.